This feature allows authorized individuals to add user accounts to the system, as well as update existing user accounts.
REQUIRED ROLE: District User Admin or Campus User Admin
SITE ACCESS: System Management > Account Administration
Click on the System Management drop-down in the site's main navigation menu, and select the Account Administration option.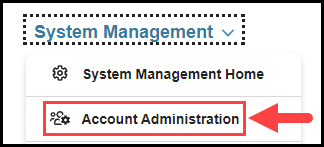 When you land on the Account Administration page, there are several options for managing users' accounts that you will see in the sub-navigation: Edit Users, Add User, Bulk Upload, Bulk Update, and Change Requests. Note that Bulk Upload and Bulk Update are only available to users with the District User Admin role.