After creating customized plans, users can mange these items through the My Plans page of the My Content section. Note that this functionality may be restricted by the district.
In addition to search filters being provided, there are a number of options available that allow users to modify, print, or share a plan.
SITE ACCESS: Tools > My Content > My Plans
Click on the Tools drop-down in the site's main navigation menu, and select the My Content option. My Plans is the default landing page for the My Content section.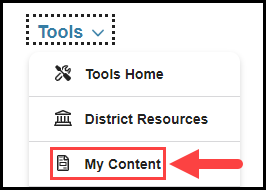 On the My Plans page, a list of existing plans is displayed along with search filters and an Options button that provides a variety of features to help manage your plans.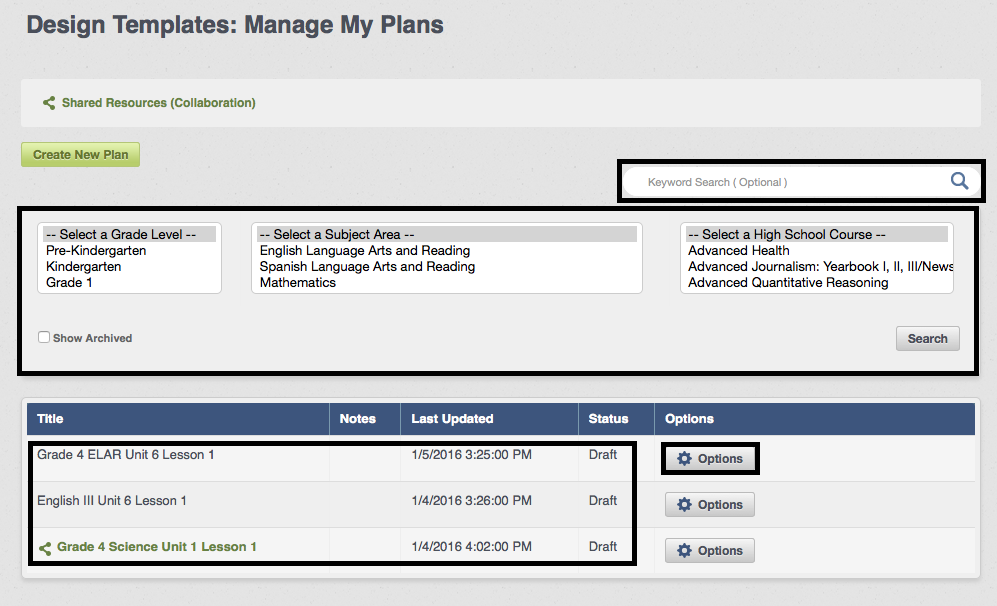 Users can select a Grade Level, Subject Area, or Course to narrow their search.

There is also a Keyword Search field provided, allowing users to type in a specific word or phrase from the plan title to help further narrow the search.

The Show Archived option filters for currently archived plans.

Archived items (see Options section below) are hidden from the general search, but can be retrieved using this filter.
The Create New Plan button enables the tool that allows users to create the ELAR/SLAR or 5E Model templates.

To learn more about creating a new plan, click one of the links below:
Currently, plans are listed in ascending order, with the most recently created plan at the bottom of the list.
From the list view in Manage My Plans, click the Options button next to a lesson plan to perform a variety of functions: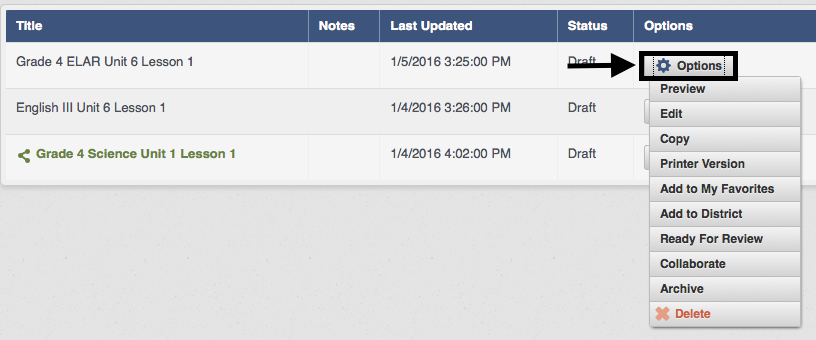 Preview – displays the plan for viewing purposes only
Edit – allows users to make changes to any part of the plan
Copy - allows user to make an editable copy of the plan
Printer Version – creates a printable version of the plan
Add to My Favorites – allows user to add the plan to the My Favorites section, under the District Tools tab
Add to District - this option appears for District Content Creators only, and allows them to make the plan available to the entire district
Ready For Review/Mark As Draft - changes the status so that an administrator can review the plan (Ready For Review), or allow the user to update prior to review (Mark As Draft)
Collaborate - allows user to share the plan with others, who are working collectively to create the plan
Archive - removes the plan from view, and stores in the system for later use (search filter provided)
Delete – deletes the record from the TEKS Resource System