Authorized individuals can control access to District-Created Assessments seen by users in the system based on the Grade Level(s), Subject Area(s), or Course(s) assigned to a user's profile.
Settings can be managed at the district or campus level. Districts can activate assessment item access for all users in the district, while allowing individual campuses to manage restrictions at the campus level.
REQUIRED ROLE: District Content Admin
SITE ACCESS: System Management > TEKS RS Assessment Access > Assessment Settings
There are three options for district-created assessment access:
Viewable—All users within the organization, regardless of grade level, subject, or course designations can view all available district-created assessments within the Assessment Center.
Viewable with Restrictions—The grade level(s), subject area(s), and/or courses assigned to user profiles will dictate which assessments are visible. Users will only be able to view district-created assessments that correspond to their designated grade level(s), subject area(s), and/or courses.
OFF—District-created assessments are not visible to any user within the organization.
On the Assessment Access Management page, select the Assessment Settings tab.

To implement restrictions, make sure the Viewable box is checked for District-Created Assessments. Next, check the Restricted box to enable the restriction of users' access based on Grade Level, Subject, or Course. This will ensure that assessment access is limited to the grade level(s), subject area(s), and/or courses designated in the Access Management Spreadsheet (or individual user accounts).
Note: If Restricted is checked, but grade level(s), subject area(s), and/or courses have not been designated, users will not be able to view any District-Created Assessments.

To manually assign Grade Levels, Subjects, and/or Courses to individual user accounts, please see the separate Edit A User Account support guide.
Once you have elected to check the District-Created Assessments Restricted box, you may also modify multiple users' grade levels, subject areas, and/or courses in bulk. Click the link provided to download the Access Management Spreadsheet. Open or save the file.

To grant a user access to the appropriate Grade Level, Subject, and/or Course, click the cell of the spreadsheet to enable the drop-down selection for TRUE or FALSE:
Select TRUE if you would like to grant access for the grade, subject, or course listed.
Select FALSE if you do not want the user to have access.

For grades K-8, please select the appropriate grade levels and the appropriate subject areas (selecting only a grade level will not provide access to any assessments).
For high school courses, please scroll right to select the appropriate course titles.
To provide a user with access to all assessments for a particular subject area, simply select TRUE for the appropriate subject area.
After you have finished making modifications, click Save to save the spreadsheet to your computer.
Next, click the Upload Spreadsheet button.

Select your file and click the Upload File button.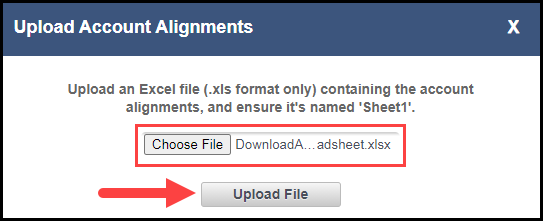 After the upload has been successfully completed, click the 'X' to close the window.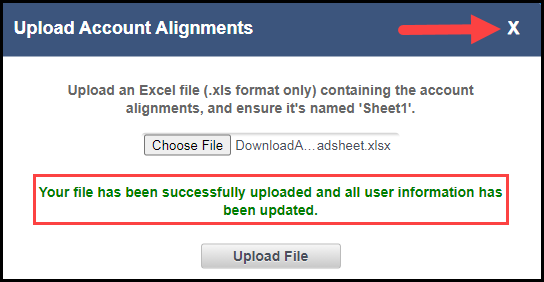 Once restrictions have been activated, the user(s) will only have access to the Grade Level(s), Subject(s), and/or Course(s) that were marked as TRUE in the uploaded spreadsheet.
For guidance with turning assessment item restrictions ON for your district or campus, please see the Managing Assessment Item Restrictions support guide.